My mother-in-law gave me this recipe many years ago when I was a young married.
It was her favorite recipe for the fudge and it quickly became mine.
I make it every year for the Christmas holidays, and many times in between.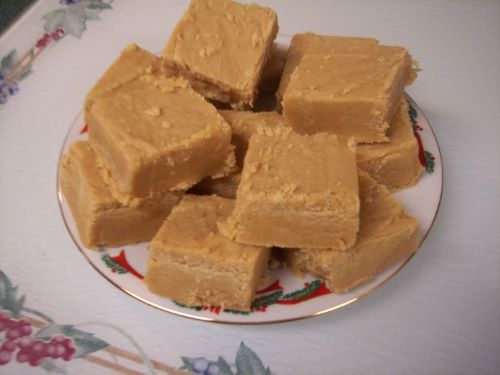 Ingredients
4 Cups sugar
2 sticks butter or margarine
3 Tablespoons white corn syrup plus enough evaporated milk to make 1 cup
2 cups peanut butter
1 seven ounce jar marshmallow cream.
1 teaspoon vanilla
Instructions
In large heavy saucepan, melt margarine/butter. Add sugar, syrup and milk mixture,
and bring to a boil, stirring constantly.
Reduce heat and and cook for five minutes, stirring constantly.
Remove from heat and add marshmallow cream, peanut butter and vanilla.
Blend thoroughly and pour into a buttered 9″x13″ pan.
Cool and cut into squares.
Enjoy!!!
---
---