To start this process, click on the Sites tab then on the link "Create New Site"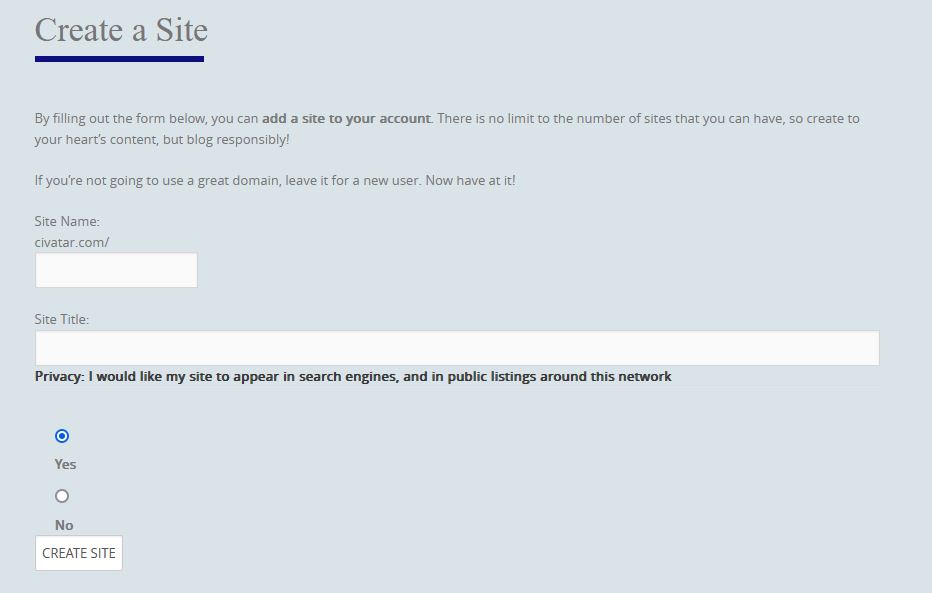 So Site Name for example, could be nutsyandtheegg and Site Title could be Nutsy And The Egg
They don't have to match, but the Site Name DOES have to be unique – if somebody else used it already on this site, you can't, and you will get an error, so keep that in mind
Here's what it looks like after the site is created:

That's the reason there can be no spaces or special characters in it.
I'd also like to point out that if you want to invite someone to visit your site without going to civatar first, just give them that URL, it will take them directly to your site, they don't have to go directly to civatar first.
OK, one last issue and we are done:

It is still findable if you have the URL to the site, and if you give that URL to somebody, they can get to your site.
The last item is if you choose to make it private as you work on it, I have to flip a switch for you to make it public afterwards. No big deal, I just have to check a checkbox, just let me know.
That's it, two text boxes to fill, one radio button to choose, then hit that CREATE SITE box and you are on your way!
Last note: What you really have there is your own wordpress site. You can play with customization, menus, categories, pages, anything you can do on a wordpress site except for install your own plugins. That has to be done at the network level.
And if your site is marked public, anything you do there will make its way to the activity feed on Civatar itself.
Any questions, just ask.